By Carrie Malin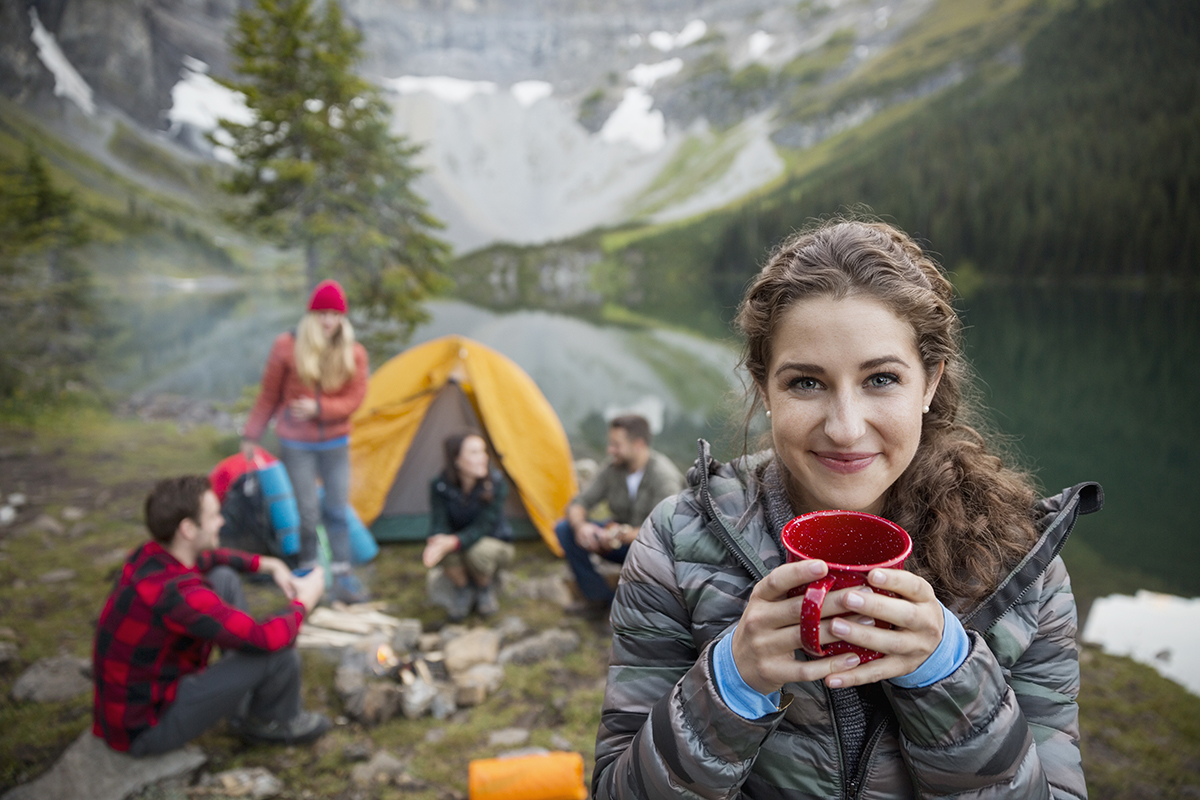 We haven't sold. We haven't closed. We are open, thriving, and still Alberta-owned. Just like we have been since 1963.
We have rebranded–or as we like to say–we've been "reborn" as Breathe Outdoors. We're pleased to affirm that we are still your locally-owned and operated Alberta outdoor retailer – the same as we have been for nearly 60 years. There's no change in ownership and our core values remain the same. You may now be asking "why rebrand then?" and that's a great question! Let us answer it for you.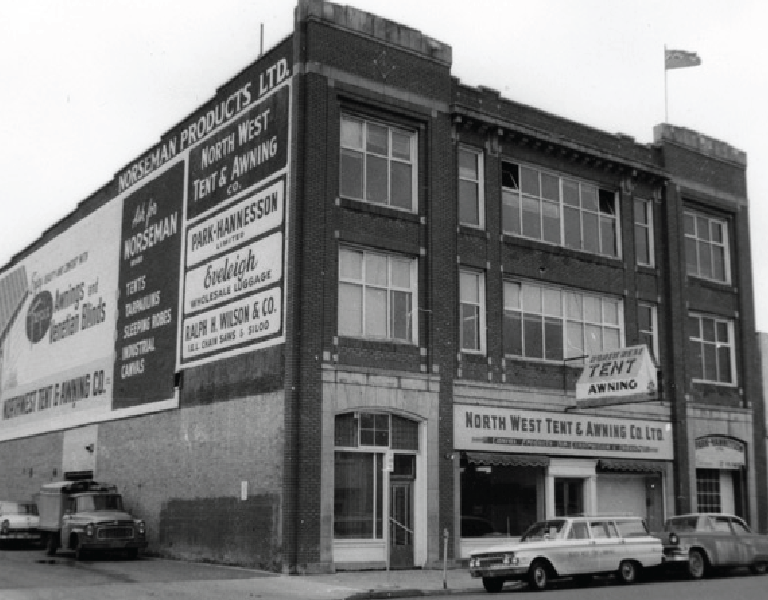 Where we came from
Did you know our heritage spans an entire century? In 1921, our parent company, Norseman, then called Northwest Tent and Awning, opened its doors in Edmonton, Alberta offering supplies and basic shelter for settlers new to the area. Al Bryant then acquired the company in 1961. The camping craze struck in the 1960s–where Albertans were eager to live the life of a pioneer, and so, Campers Village was born in 1963 as a factory storefront selling tents and sleeping bags to aspiring first-time campers! Over the years we expanded, both with new stores and a much wider product selection.
It's safe to say that times have changed and "pioneer" is now a term used colloquially in history lessons. The "camping craze" of the 1960s allowed camping to become a lifestyle rather than a novelty. Products, activities, and communities have diversified and become more accessible to a wider audience. But the Campers Village name and logo were, perhaps, a little bit stuck in the past.
Our recent reality
The thing is, we understand our customers. In fact, we're known for it! We get rave reviews for our attentive customer service, stocking a curated selection of products, and sharing our authentic, expert product knowledge. While the name and logo are a "heritage trait" associated with brand awareness in our community, we were interested to know if it was also causing us roadblocks on the path to achieve our purpose to enrich the physical and spiritual well-being of people's lives. From extensive focus group research, we got our answer: Yes, for some potential customers, our name and logo were reinforcing misconceptions about who we are and what we do.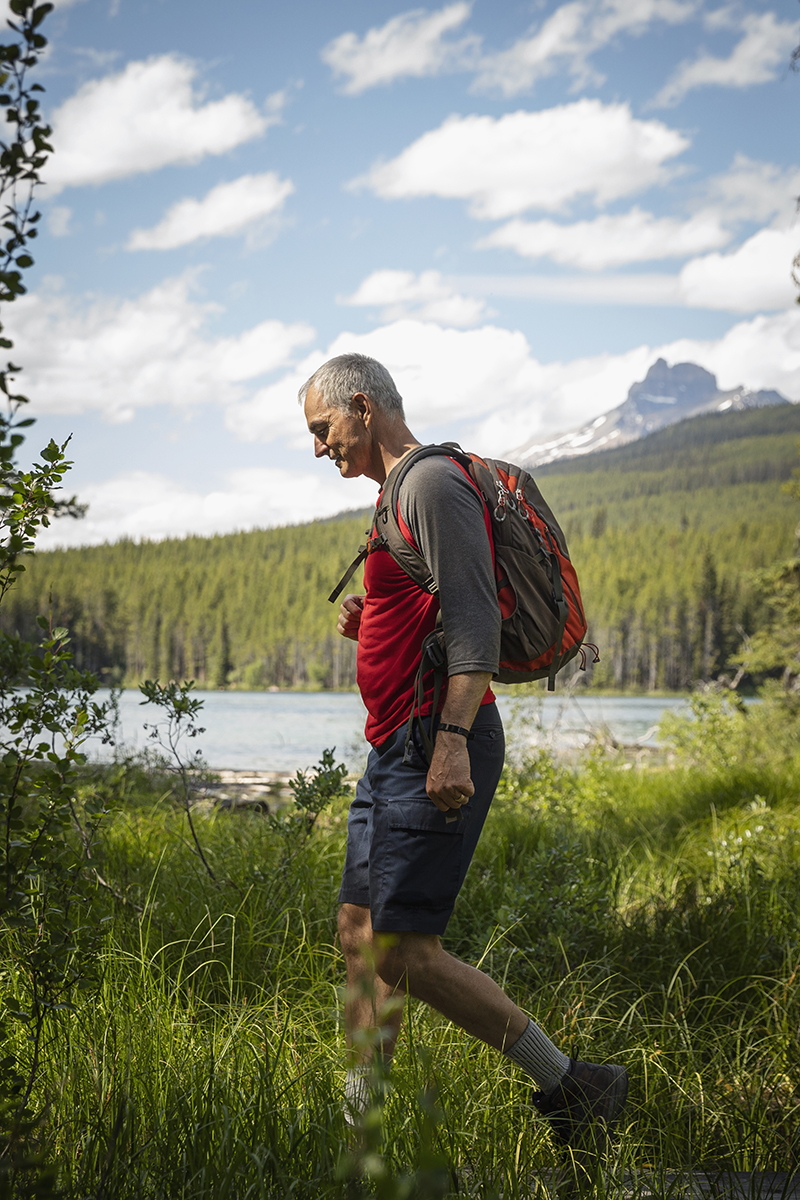 Because the Campers Village brand was founded in the 1960's when camping was new and novel – the brand understandably had its focus there – on camping and hiking. Now, camping and backpacking are just one element of an adventurous outdoor lifestyle. For many years, we've supported so much more than just camping. From kayaking and canoeing to trail running, rock climbing, hiking, dog-walking, and adventure travel, we have products and advice that can help folks plan just about any type of outdoor adventure. As outdoor recreation has evolved, so did we. We simply aren't a "Camper's Village" anymore. We are a one-stop shop for people seeking to reconnect, recharge, and refresh in the outdoors.
Also, we believe that the outdoors are for everyone, no matter your ability, background, or experience, and we want to better align our brand with that belief. If you don't camp, that's ok! If you don't feel like hanging off the side of a mountain, cool! We're all connected in our love of the outdoors, and however you want to enjoy the outdoors, we are here to help you do it your way.
Finally, we want to play a bigger role in the community than we ever have–we're not just here to sell gear. In the past we've been involved in community events, expert-led adventures, and partnerships within Alberta. That is not going to change. In fact, we want to become even more involved. We also understand that our desire to experience nature goes beyond our physical fitness. Breathe Outdoors is here to help guide you through the design of your unique outdoor experience. We want to facilitate your next outdoor experience and it's our mission to turn your inspiration into adventure.
In the end, there was only one solution to the current hurdles we were presented with the Campers Village brand: We needed a new name and brand.
Reborn as Breathe Outdoors
If you've ever had to name something–from a new pet to a startup company–you must empathize with us that it can be a monumental task. For us, we were talking about changing a name and logo that our customers have come to know and love since 1963! What a task was ahead of us and we needed to get it right. Our new name and logo had to reflect us. Our purpose, our values, and our goals. We undertook an extensive process and we're proud and excited to finally share it with you as the new face (and heart and soul) of our beloved company.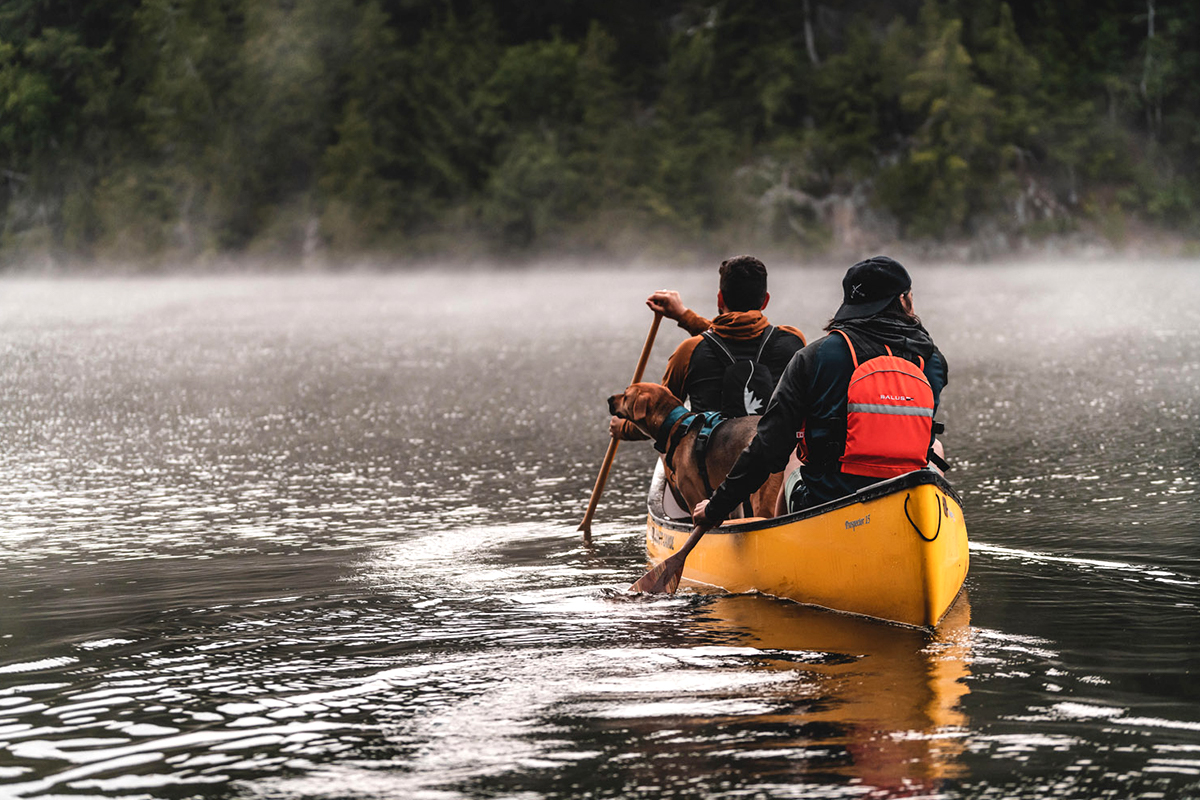 Welcome to Breathe Outdoors:
"Golden sunlight lances through the trees, pulling long shadows from the wildflowers and brush below. You stop on the shaded path and look back to your partner a few meters behind. The hunched thrust of the mountain looms ahead. The air is sweet with pine and sweat.
You breathe in.
Your paddle dips silently into the glassy water as you cut through the middle of the lake. Left. Right. Left. Right. The morning sun has burned off the last of dawn's haze and you can finally see across to the far shore. You look up. Two birds wheel lazily overhead.
You breathe out.
"Like this," you say, guiding her hand. Your daughter's marshmallow comes to rest over a patch of blushing coals. She smiles, her face flashing against the darkness. The marshmallow browns, bubbles then ignites. Below the winking light of the Milky Way you introduce her to the joys of a perfectly Well Done s'more.
This is Breathe Outdoors.
This is where feelings surpass fitness and connection comes above all else. Because connection is why we're here. With the right gear and the right advice, we can all have life-changing, spirit-filling moments in places we never thought possible.
It's out there. Waiting for us.
All we have to do is breathe."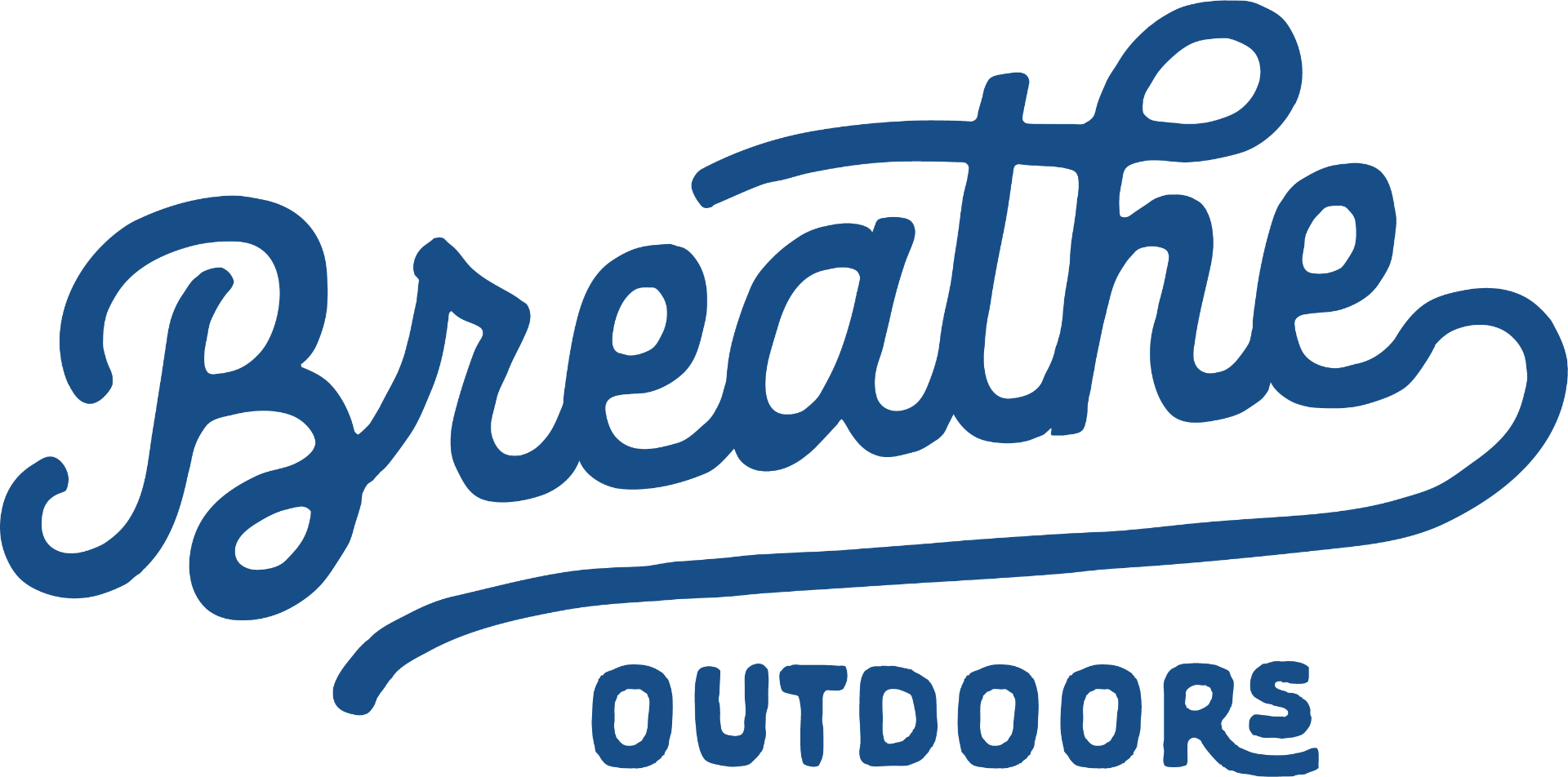 Breathe Outdoors. A name chosen to serve as a continuous reminder of our purpose. We believe that, along with the right gear and right advice, we can all find moments in nature to refresh, reconnect, and recharge. We're here to inspire adventurers to create those experiences that take our breath away. We encourage everyone to pause and appreciate the beauty of nature that we have right in our backyard.
Like our name, our logo was also designed with the outdoors in mind. The flowing script in the word "Breathe" creates energy and inspires a sense of adventure. The twists and curves remind us of a forested trail or a winding mountain creek. We think of crisp mountain lakes and a wide-open Alberta sky when we observe the deep blue color. The word 'outdoors' anchors us in our purpose and our industry – we are unashamedly gear geeks and love helping people find the right clothing and equipment that make those spirit-filling moments possible.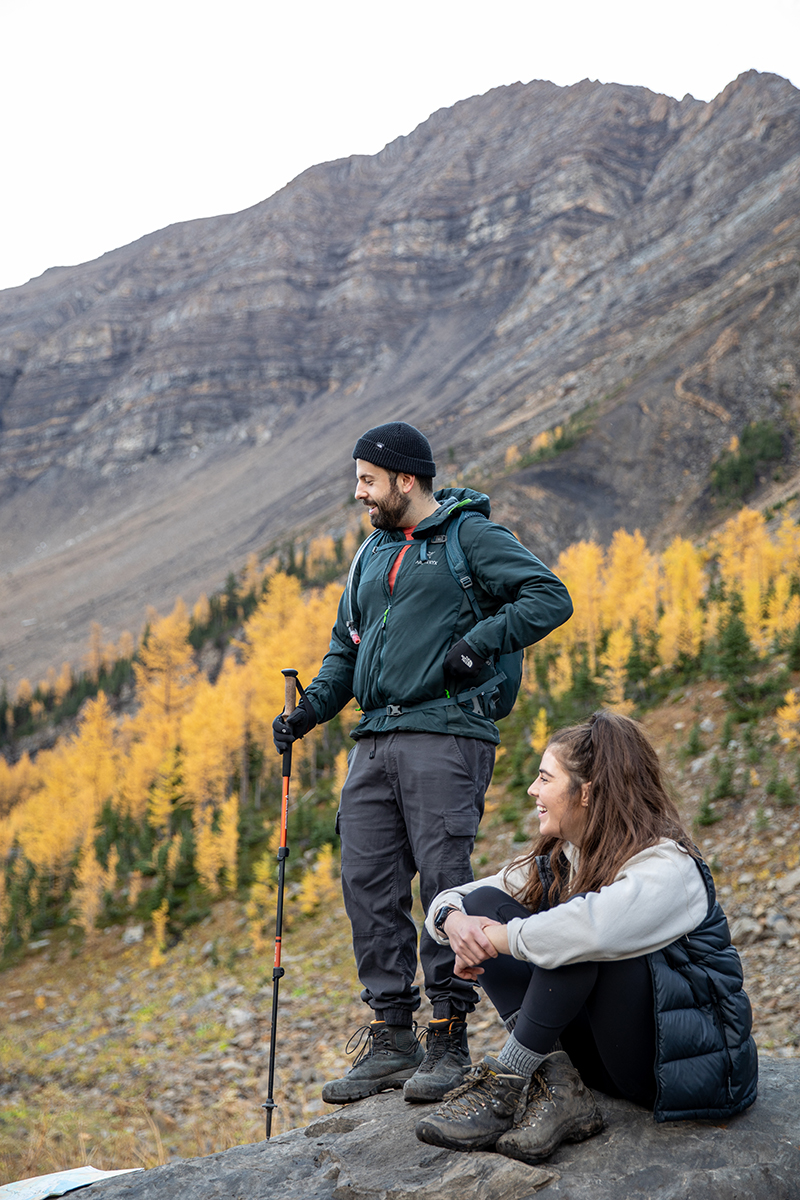 A century down, a century (plus some) to go!
Yes, we've got a fresh face, but we're still the same company you've depended on since 1963. We're still your trusted locally-owned outdoor retailer. Fundamentally, our ownership, our purpose, and our core values have not and will not change.
There's a lot to be excited about moving forward, however. Expect to see a strong Breathe Outdoors brand presence within the Alberta community. You're still going to receive the authentic, knowledgeable, friendly customer service you've come to know and love. We're continuing to curate a great selection of products from all the top brands. Your favorite sales events, like our famous Friends & Family event, isn't going anywhere. Additionally (once its safe) we will be reviving some past beloved events as well as drumming up some great new ideas.
We've also been working tirelessly behind the scenes and are excited to roll out some Breathe Outdoors swag, some great updates on our website to improve your online shopping experience, and some lovely renovations to all of our stores.
We strongly believe our new brand will further connect us to our community and with each of you. We welcome all adventurers into our stores and we also look forward to making a larger impact in our community.
We're here for you, Alberta! We can't wait to continue our journey with you alongside us.
We are all reborn in the outdoors. Campers Village is now Breathe Outdoors.