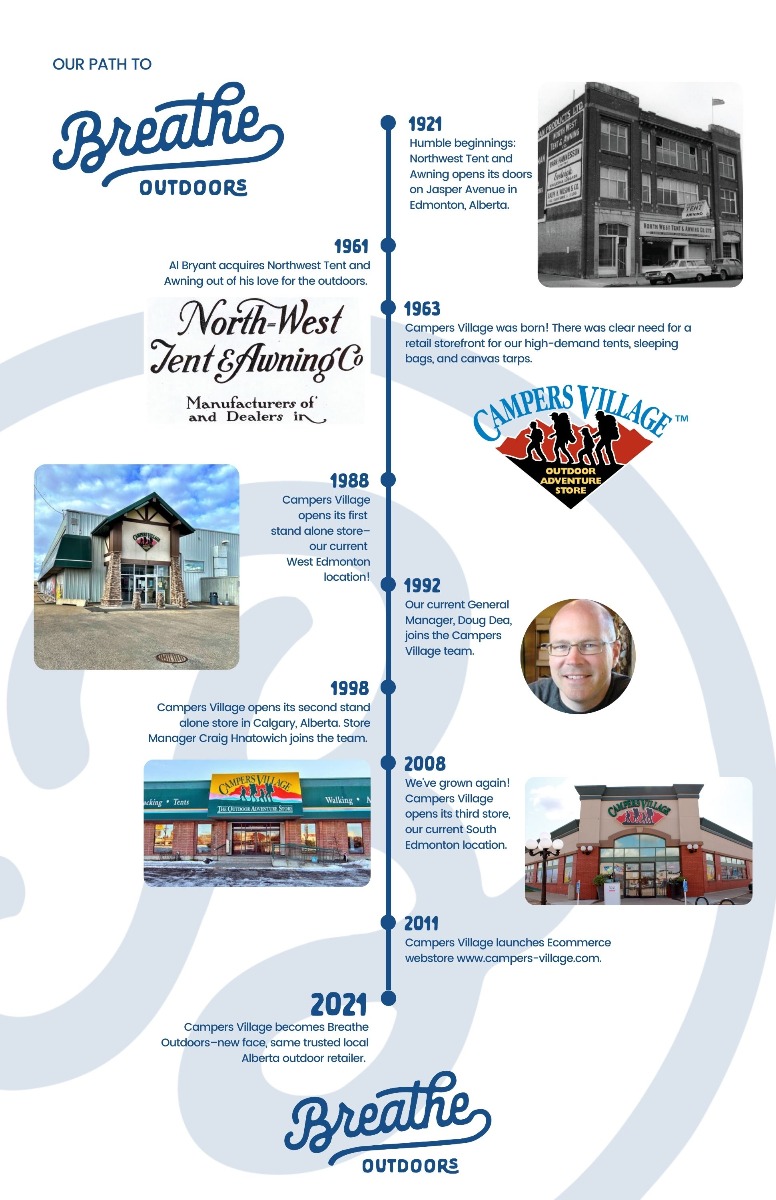 Campers Village becomes Breathe Outdoors
As you can see, our roots are deep, with a full century of history! Times have changed, and while we are–and will remain–a locally owned Alberta retailer, a few things have become clear to us:
The Campers Village name and logo were not relevant to all our customers

Not everyone wants to camp! The Campers Village brand was founded in the 1960's when camping was more of a novelty - people wanted to try out living the life of a pioneer. Now, camping and backpacking are more one element of an outdoor lifestyle, or a means of facilitating and supporting outdoor adventures in remote locations. As outdoor recreation has evolved, so must we. We aren't a "Camper's Village", so much as a one-stop-shop for people seeking to reconnect, recharge, and refresh in the outdoors.

The Campers Village brand was not reflective of the breadth of activities we support and the products we offer

For many years, we've supported so much more than just camping. From kayaking and canoeing to trail running, rock climbing, hiking, dog-walking, and adventure travel, we have products and advice that can help folks plan just about any type of outdoor adventure.

All outdoor enthusiasts are welcome in our stores

We believe the outdoors are for everyone, and we wanted to better align our brand with that belief. If you don't camp, that's ok! If you don't feel like hanging off the side of a mountain, cool! We're all connected in our love of the outdoors, and however you want to enjoy the outdoors, we are here to help you do it your way.

We want to play a bigger role in the outdoor community than we ever have

We're emotionally involved. We understand that the desire to experience nature goes beyond physical fitness. Breathe Outdoors is here to help guide you through the design of your unique outdoor experience.
We want to help facilitate your adventure by sharing our expert advice, stocking a curated selection of quality outdoor products, and organizing events to enable you to improve not only the physical but the emotional and spiritual well-being of your life.
We're invested in our community. We host local events and adventures, partner with our brands to periodically run contests and giveaways for our customers, and we're invested in creating equality in the outdoor community.
We are all reborn in the outdoors. And invite you to walk alongside us as Campers Village is reborn as Breathe Outdoors:
"Golden sunlight lances through the trees, pulling long shadows from the wildflowers and brush below. You stop on the shaded path and look back to your partner a few meters behind. The hunched thrust of the mountain looms ahead. The air is sweet with pine and sweat.

You breathe in.

Your paddle dips silently into the glassy water as you cut through the middle of the lake. Left. Right. Left. Right. The morning sun has burned off the last of dawn's haze and you can finally see across to the far shore. You look up. Two birds wheel lazily overhead.

You breathe out.

"Like this," you say, guiding her hand. Your daughter's marshmallow comes to rest over a patch of blushing coals. She smiles, her face flashing against the darkness. The marshmallow browns, bubbles then ignites. Below the winking light of the Milky Way you introduce her to the joys of a perfectly Well Done s'more.

This is Breathe Outdoors.

This is where feelings surpass fitness and connection comes above all else. Because connection is why we're here. With the right gear and the right advice, we can all have life-changing, spirit-filling moments in places we never thought possible.

It's out there. Waiting for us.

All we have to do is breathe."
Optimistic and moving forward
If there's one thing we hope you take away from Campers Village becoming Breathe Outdoors, it's this:
Yes, we've got a fresh face, but we're still the same company you've depended on since 1963. We're still your trusted locally-owned outdoor retailer. Fundamentally, our ownership, our purpose, and our core values have not and will not change.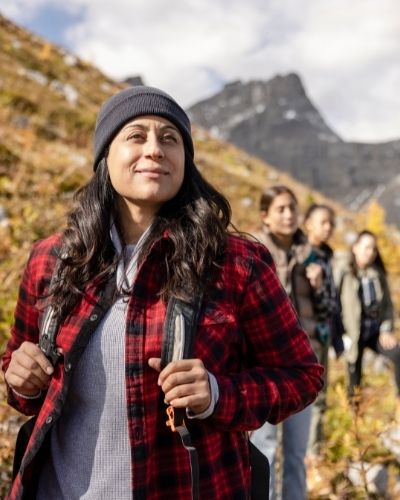 Some things are changing, however! But, we promise it's all good things and our intention is to help improve the physical and spiritual well-being of your life.
Moving forward, you can continue to count on
A strong brand presence in the community from Breathe Outdoors
Authentic, knowledgeable, friendly service
An ongoing curated selection of quality gear from top brands
Your favorite sales events, like Friends & Family and Black Friday
Events and outdoor adventures (when it's safe to do so)
Some things to get excited about
Breathe Outdoors-branded swag!
Updates to our website to improve your user experience
Freshly renovated stores, including inspirational photography captured by local photographers!
Initiatives and partnerships aimed at increasing equity in the outdoors
Would you like to learn more about our rebrand? Read our rebrand announcement article for insight behind choosing our name and logo, and more.